There is no doubt about it; with the release of the hero cap and the introduction of mercenary heroes the monsters of Tyria are really taking a beating. There isn't a zone which isn't currently taking a thorough thrashing by teams of Ritualists and Mesmers c-spacing their way to victory amid a cloud of dust, blood and experience points.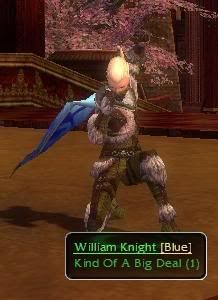 So proud when I got this!
Ah - those heady days of Yore
Similarly, with the changes to the "Survivor", "Legendary Defender of Ascalon" and "Drunkard" titles, a lot of players who might not have thought it possible are now considering a run on the "God Walking Amongst Mere Mortals" title. GWAMM being one of the highest PvE accomplishments a player can achieve in Guild Wars; it is astounding to stand in Lion's Arch and watch the many many messages of
"John Smithington has achieved God Walking Amongst Mere Mortals - the Gods have extended their blessing"
-
"Smith Johnington has achieved God Walking... blah blah blah"
cycle past the chatlog
.
So - what remains for the intrepid Guild Wars adventurer? What challenges do we still face? How do we keep the game fresh and interesting when some of the hardest content in the game can be completed by a gnat with severe brain deformities?
The answer is challenges we
create for ourselves
. Engineering builds and vanquishing areas
using only core skills
. Finding ways to solo entire explorable zones (
Witte Was
stylee). Doing elite areas without consumables, PvE skills or advantageous title effects. Etc.
It is up to
us
as a community to work to keep the game alive, there is only so much we can lump on the developers if we ourselves let our game fall into misuse. All the devs do is give us an environment in which to play. The game only exists as long as there are people to play it, and so the game itself is defined by those players. As long as we are enthusiastic, imaginative, creative, inquisitive and most of all excited about Guild Wars then we can continue to enjoy it to its fullest.